Platelet Aggregation/Lumi-Aggregation Systems
Chrono-log's wide range of Platelet Aggregometers allows you to choose the instrument with the capabilities to meet your particular needs. Chrono-log models have single, dual, four and eight sample units, and are available with chart recorder outputs or digital computer outputs. CHRONO-LOG® Platelet Aggregation Systems provide the following platelet testing options:
OPTICAL AGGREGOMETERS: Measure platelet aggregation in platelet-rich-plasma (PRP), using the Light Transmission method developed by Born.
The NEW Model 490 4+4 provides four (4) or eight (8) test channels for testing PRP, Washed or Gel-Filtered platelet samples.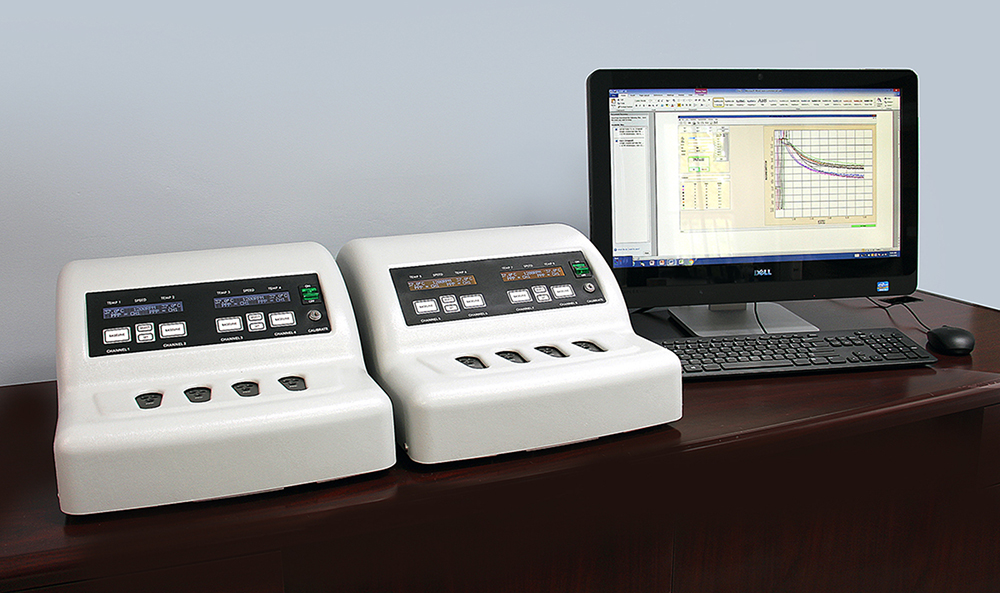 LUMI-AGGREGOMETERS: Simultaneously measure aggregation and ATP secretion in the same sample, to provide a quantitative determination of second wave aggregation and to simplify the diagnosis of storage pool defects and the effects of aspirin-like drugs.

The Model 700 Aggregometer provides up to four (4) channels of platelet aggregation in either whole blood or PRP with simultaneous measurement of secretion.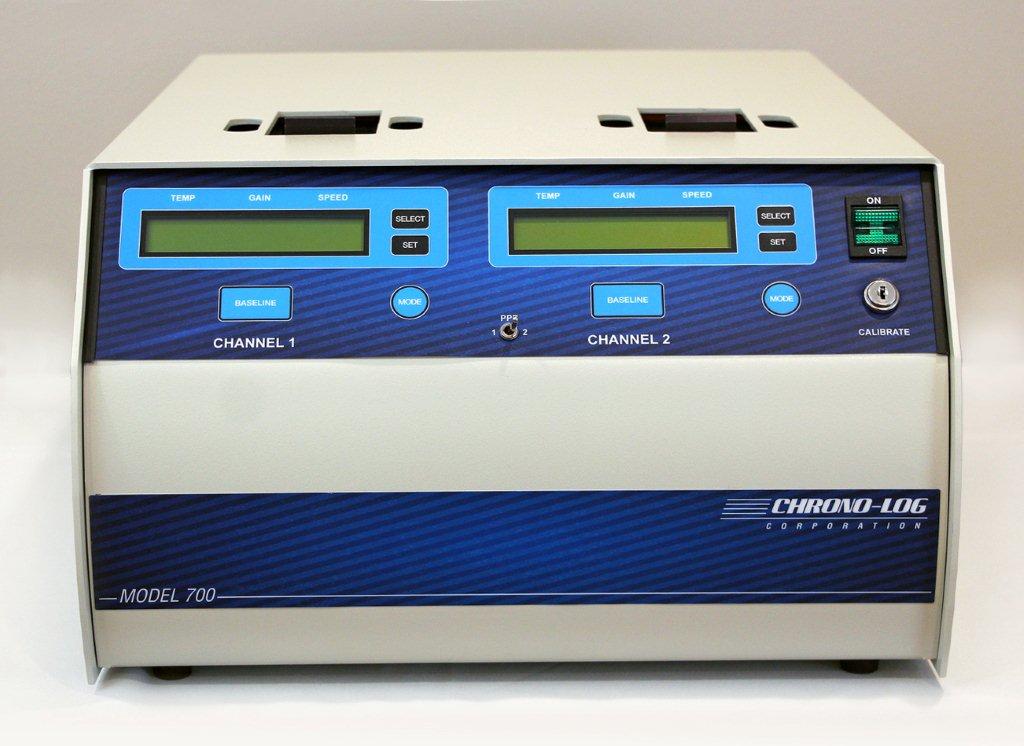 WHOLE BLOOD AGGREGOMETERS: Measure aggregation directly in whole blood, a more physiological milieu than PRP; requires less patient blood (0.5 mL/test vs. 2.0 mL/test for PRP), reduces labor costs and improves turn-around time for a complete panel (less than 30 minutes in whole blood, 1.5 to 3 hours in PRP). The advantages of the Whole Blood Aggregometers have been well documented in the peer-reviewed literature, as well as by many laboratory directors. Studies have shown that whole blood aggregation yields information similar to optical aggregation in PRP.
SMALL, LOW COST WBA WHOLE BLOOD AGGREGOMETERS: Now available with Disposable Electrodes capability, the CHRONO-LOG® WBA provide a front panel digital display of the aggregation amplitude as well as automatic setting of baseline and gain. Easy to use, they are ideal for drug studies and for platelet function testing in small and large laboratories. These low cost Aggregometers measure platelet aggregation directly in whole blood, eliminating the time and expense of preparing plasma. An accurate platelet aggregation result can be obtained within seven minutes of venipuncture.
The WBA is ideal for testing the effects of anti-platelet drugs on platelet function, since platelets are tested in their natural environment. Ease of operation, with automatic setting of baseline and gain and the elimination of sample manipulation, makes it feasible for platelet aggregation to be tested cost effectively in laboratories of any size. User training time is also reduced, resulting in additional cost savings.

The WBA is available as a single channel (Model 591 or 591A) or dual channel (Model 592 or 592A) unit. The "A" after the model number indicates that the WBA has Disposable Electrode capability. The aggregation amplitude in ohms is shown automatically on the front panel display. Analog outputs provide the option to interface a chart recorder for a hard copy record of the aggregation curves.

The WBA is valuable when you must have a rapid, reliable and cost-effective screen to detect specific platelet abnormalities.

To see how the WBA meets your platelet function testing needs quickly, accurately and affordably - click here.
CHRONO-LOG® Platelet Aggregation Systems are currently in use for the clinical diagnosis of platelet disorders and monitoring the effects of drugs on platelet function. They are also used to study Heparin-Induced Thrombocytopenia (HIT) , leukocyte and neutrophil aggregation, and for the measurement of superoxides and free radicals.

Click here for detailed model specifications.